Generative AI for Urban Governance
Generative AI for Urban Governance: A decision making support tool for cities
The purpose of this review is to shine light on different kinds of existing generative AI models and the types of problems they are currently being applied to, before presenting our research on the potential of generative AI to assist in decision making processes in the management of cities.
The Future of Urban AI
The Future of Urban AI : Global Dialogues on Urban Artificial Intelligence
To deepen our understanding of how deep learning and other AI technologies are being used to address pressing urban challenges, Urban AI and the Jacobs Urban Tech Hub at Cornell Tech partnered in Autumn 2022 to produce a program of webinars. This report analyses the insights and shares the learnings from those Global Dialogues on Urban Artificial Intelligence.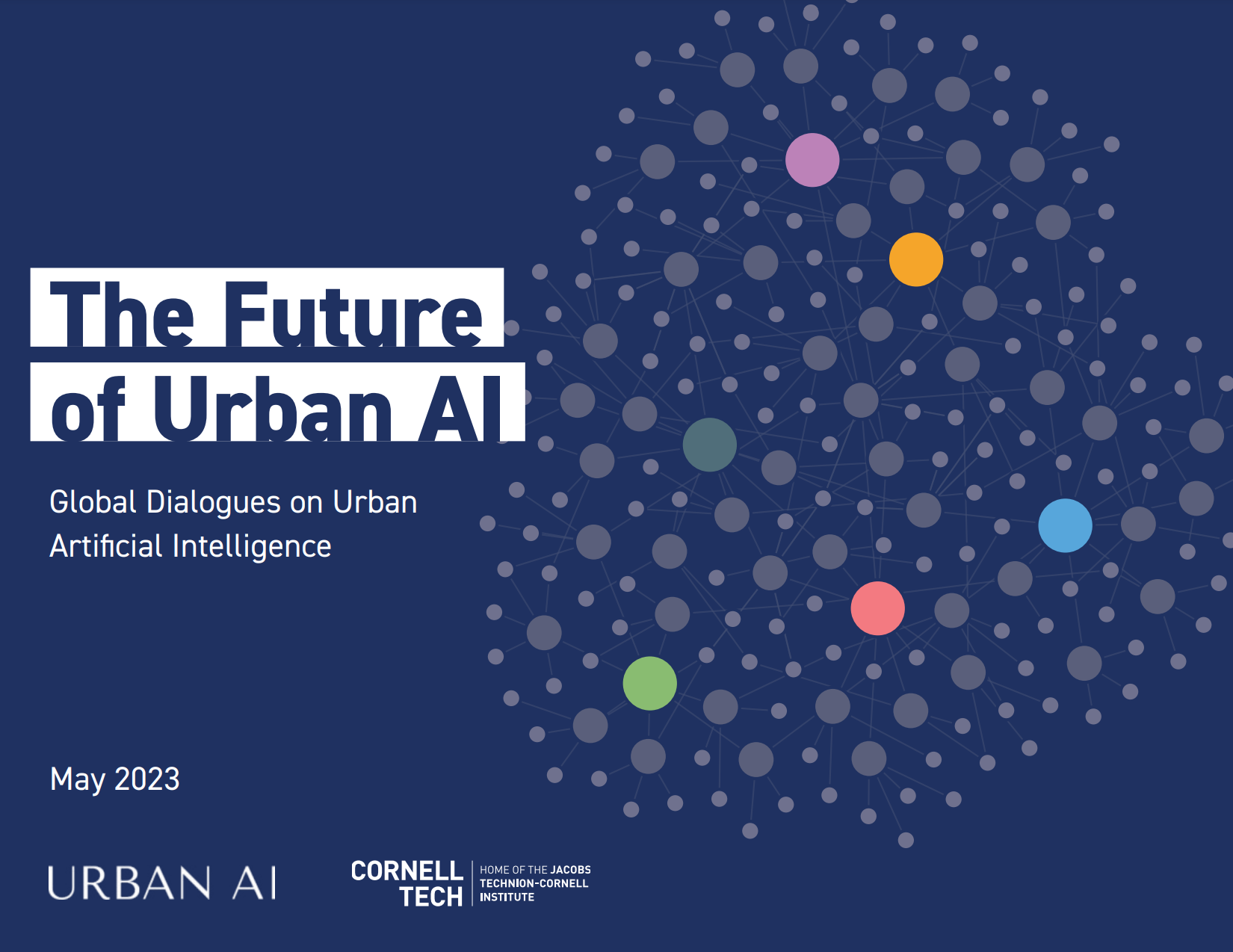 GEOPOLITICS OF SMART CITIES
Geopolitics of Smart Cities: Expression of Soft Power and New Order
As civilian technologies, urban technologies are most often considered neutral and relatively harmless. Though, and because of the recent geopolitical transformations, urban technologies are more and more weaponized and used as instruments of soft power. They are becoming geopolitical and strategic assets in international conflicts. For this purpose, States and transnational organizations are deploying important means to massively export and influence the development of these technologies. In this context, as well as because of the growing USA-China rivalry, this report argues that "Smart Cities' ' and "Safe Cities" are actually strategic narratives respectively elaborated by American stakeholders and China to win this UrbanTech War and become leaders in this field. Lastly, this report also highlights the role of the European Union in this geopolitical confrontation as well as its effort to develop its own strategic narrative around cities and urban technologies.
URBAN AI GUIDE
What goes into urban AI?
The URBAN AI GUIDE aids city leaders and urban technologists (academic, public, private, and community-focused) in better understanding how artificial intelligence operates in urban contexts. It details the components of urban AI systems, and utilizes case studies to provide insight into evaluating AI-based project implementations and maintaining human oversight in the process.
URBAN AI REPORT
What is urban AI?
The URBAN AI report coins the concept of urban AI and explores its field of possibilities: What is urban AI? How can it contribute to the creation of sustainable cities? What are the risks and possible abuses of this technology? How are different cities around the world using AI? So many questions (and much more) which are addressed within this collective work.
URBAN AI
AI Localism Repository
Together with The GovLab and the Institute of Ethics of AI, we are documenting trends and practices of AI application and regulation by cities. The AI Localism Repository is a living platform meant to curate local efforts and attempts to govern AI. The 60 entries (and growing) are categorized by geographic regions, and types of governance innovation, and sector focus.
ONGOING PROJECT
Invisible Cities
Using sensible interfaces to materialize urban data.
Urban AI and the French Institute of Design join force to organize a Hackathon on sensible interfaces with several Design Schools, french Cities, citizens, startups and Big Companies. Ongoing project.